On a whim, we submitted our webseries, "It's a Rough Life" into the New York Television Festival's History Unscripted Development Pipeline contest. They were searching for unscripted treatments about  a charismatic male character who lives in a surprising world and has fresh points of view. Sounds like Johnny Roughneck to us… The lucky winner gets the chance to develop their entry into a network pilot and also receives a $10,000 cash prize.
To our excitement, we are semi-finalists! And our fingers are crossed.
Want to know more about the show? Wanna see what the big deal is? Check out this sizzle reel to get the rundown on everything "Rough Life".
You can watch all the episodes here.
We're proud to be in the running with our fellow semi-finalists [listed here below]  –  may the best pitch win!
Antique Garage: Created by Michael Kasino – New York, NY
Blood Brothers: Created by Will Cunningham and the White Plains Rugby Club – New York, NY
Cleveland Art: Created by Jeannine Denholm – Cleveland, OH
Crash Junkies: Created by Steve Garrett and Jeff Steinborn – Nashville, TN
The Full Monte: Created by Steven Matty – New York, NY
Hackers Created by Sean Skelton and Manny Kivowitz – New York, NY
Harlistas: Latino Rider Journeys: Created by Alfredo De Villa – Brooklyn, NY
Heli Hog Hunters: Created by Bil Arscott – Dallas, TX
Larson Legacy: Created by Jenn Larson – Mora, MN
Reenactors: Created by Angela Harrer and Andrew Eldridge – Newton, MA
Rocky Mountain Cowboys: Created by Nathan Stoll – Creede, CO and New York, NY
Sap Wars: Created by Hilary Weisman Graham and George Cilley – Francestown, NH
The Wise Guy Singer: Created by Sal Manzo and Aaron Weiss – New York, NY
Wreck Hunters: Created by Gary Simson and Andrew Giacometti- Los Angeles, CA
That's a screen grab from Monday nights workshop performance of Miranda Ferriss-Jones' Precipice at TRI Studios. Miranda and her soon to be husband Ben Youngerman are great friends and frequent collaborators of ours. We were honored to be a part of the first workshop of Miranda's amazing musical theater extravaganza. We can't wait until the next one. (Also congrats you two! They're getting married in about a week.) Look out for video clips from Monday night soonish from Panhandle Productions.
In other TeamJADED news, we are SLAMMED. My mom likes to call the way we work "feast or famine" and right now we are in feast mode. Or maybe a more accurate way to put it would be drowning on fat slices of extra cheese and pineapple pizza that clients are throwing at our mouths. I mean pizza is delicious… and the pineapple is good on everything… but I digress.
Pretty soon the first non-pilot Documos will go live. Documos is a new project we've launched under the JADED umbrella. It's a brand dedicated specifically to producing documentary promos. We've been working a lot in the "short branded doc" for web catagory in the last few years. We love doing it. So we thought hey, let's start a company dedicated to just that. Viola: Documos. Check it out. (I think this counts as a soft launch). Here's one we produced with our buddy Thomas Knoll. Watch it and then go vote for his panel at SXSW.
We've also partnered with the folks at MediaOne on a variety of projects. Right now we're working with them to cover Talks@Google. Look out for some of those videos coming soon. We've shot talks with D&D author/ legend RA Salvatore (There is a new Drizzt book out!) and also Battlestar Galactica writer Jane Espenson, who was at Google promoting her excellent web series Husbands.
It's political season, and we've been working on political ads with our friends at StoreFront and IB5k. Some of those should be public soonish.
Jeremey has also been filling in for our friend Glenn and shooting talks at Pivotal Labs while Glenn enjoys his annual August vacation.
We've also been working on some behind the scenes edits for our friends over at Pandora, including a performance/ interview of Amanda Palmer for their Backstage@Pandora series. We'll post that when it's up.
And Rough Life! Are you watching it? You should be. Here's the new one in case you missed it for some reason.
Flash Tetris

Play The Scary Maze Game at Fugly.com
That's what our workload is like right now. So apologies for the slow updates to the blog. We're juggling about nineteen different video projects including work for several of our favorite clients as well as Rough Life and our first Documo specific contract. It's awesome, but hectic. Stay tuned.
This episode was fun to produce. Thanks to Paola for being a good sport (with Johnny) and with us.
It's almost time for BART Tour, but first Johnny has to make some last minute preparations with the ex-wife. Paola is not too psyched about him shrugging off his family responsibilities to barge trains all day with skaters.

It's a Rough Life, a reality series about Johnny Roughneck.
Follow us the show on Twitter: twitter.com/aroughlife
Become a  Facebook fan to get updated every Tuesday with a new episode.
Also check out the Rough Life channels on Vimeo and Youtube! Go like them, leave comments, and tell us what you think!
That's right, season 2 has begun! It's a Rough Life Season 2, 7 episodes about BART Tour 2011. The lead up, the drama, the skateboarding. Get ready.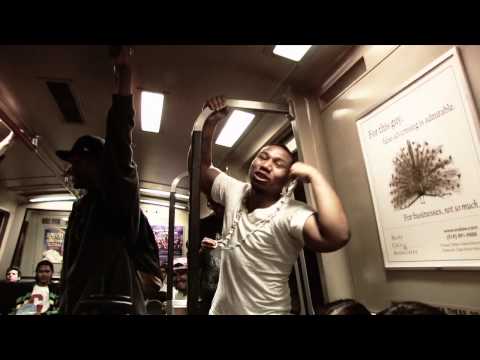 Watch it without ads:
Follow the show on Twitter: twitter.com/aroughlife
Become a  Facebook fan to get updated every Tuesday with a new episode.
Also check out the Rough Life channels on Vimeo and Youtube! Go like them, leave comments, and tell us what you think! Now head to It's a Rough Life dot com and watch it again!
Recently we were featured on the Crew Tide blog. It's a company focused on exploring…
how independent filmmakers help brands tell their stories and reach new audiences for a fraction of the cost.
We met Crew Tide's founder, Anna Callahan at SXSW. She asked us if she could do a short interview with us because our body of work falls so squarely within what she is doing. A couple of days later we did a phone interview. Now it's up. Check it out.
Excerpt:
Jeremey Lavoi and Abby Berendt run Jaded Multimedia, a production company in San Francisco.  Most of their work is short-form non-fiction branded content.  They work with about a dozen freelancers so that when they have too much work, they know they can handle it — that's a good problem to have…
There's even a little Rough Life shout out. (Stay tuned, the second season premiere is approaching.)
In other JADED news, we have just come off of a ROLLER COASTER. After we got back from Austin/ Baton Rouge for the SXSW/ Pandora/ Rough Life extravaganza, we jumped right into the San Francisco International Film Festival. If you've been following the blog, then you've seen some of those pieces. We're looking forward to a post-fest meeting with the great San Francisco Film Society staff next week. The fest was fun, but right after we set-up the production schedule with the Film Society, Jeremey was booked as a Producer/ Shooter on Discovery Health's, Addicted. He was immediatly shipped out to parts unknown and embedded with a drug addict 24/7 for almost two weeks. Craziness ensued. We'd love to talk more about it, but unfortunatley we cannot. Suffice it to say, it was quite an experience. He got back just in time to for the final few days of SFIFF (and more importantly the Filmmakers Lounge on Fillmore). More to come.