Our promo spot for DWNTWN Skate Supply: SOMA won a Silver Telly in the 32nd annual Telly Awards!
We produced this piece with our friend (and frequent collaborator) Ben from Panhandle Productions, and of course with the help of the Roughneck squad.
A Silver Telly is the highest honor, and we are excited/ honored/ proud of our accomplishment. Thanks to everyone that took part and helped with the video.
We also won three Bronze Tellys this year, but we'll tell you more about that later. In the meantime, check out Johnny's new space at Lower Haighters.
This video is the latest in a long line of videos we've produced to cover the exploits of our friend Johnny Roughneck. Back in 2009 we produced a video promoting his new shop "Dwntwn" that had just opened in San Francisco's Tenderloin District. A year later, he's got a Best of the Bay Award under his belt and the shop has moved to a new and bigger South of Market location. In his own words, they "ain't playing."
This is our inaugural dslr shoot. It was produced by JADED with the help of our friend Ben Youngerman. We shot with a Canon 7D, a Canon 5D Mark II, and employed a Merlin Steadicam with vest and arm.
DWNTWN Skate Supply 1086 Howard St. SF, CA
Here's the video evidence from our first DSLR Shoot. Check out Dwntwn's new location and TeamJaded with a 7D and a Merlin Steadicam. Our friend Ben Youngerman also worked on this with his brand new Canon 5D. He did a great job, and his Zeiss lens looks sick!
We produced this to showcase our friend Johnny's new shop and also as a test shoot for our new DSLR's. How'd we do for a first go round?
Next time you're South of Market roll through Dwntwn… they might even be making vegan pizzas.
DWNTWN Skate Supply 1086 Howard St. SF, CA
In our continued effort to keep the blog posted with what we're up to, we'd like to announce that we got a Canon 7D DSLR! If you don't know, learn. If you do know, then yeah… oh yeah. We're psyched. Welcome back to the party to us.
We've had the camera for a little over a week, and we got it just in time for a big job with our friends over at IB5K. Once again, we're going to be traveling America shooting video. This time it's mini-docs for Bank of America. But enough about that, we got a 7D! And a Merlin Steadicam (complete with arm and vest)!!
Look out for test footage, we'll try to post some sooner than later. In the meantime, enjoy these screen shots and stills from a practice shoot we did with our friend Ben Youngerman and his new 5D at the new Dwntwn. I'll label each pic with camera used and whether it's a still or screen grab.
(5D still: Ben)
(5D still: Ben)
…Oh yeah, Dwntwn moved from the Tenderloin to Soma (and into a gigantic space). The new address is 1086 Howard @ 7th St. Head down and check it out. Here's link to our friend Christian's blog post from the opening party.
(7D screen with steadicam: Jeremey)
(5D still: Ben)
Roughneck's got bearings! Shields popped from the start.
(7D screen: Jeremey)
Johnny moved the entire Roughneck operation into the new building. These next few shots are from the Roughneck office. Here's Johnny and Jimmy Nelson finishing up some work on the new BART Tour flyer.
(7D with Merlin screen: Jeremey)
(7D with Merlin screen: Jeremey)
Christian's helping out on the phones, getting Roughneck in shops across the country.
(7D with Merlin screen: Jeremey)
B-Cam shot from the interview.
(7D screen: Jeremey)
A-Cam shot from the interview.
(5D screen grab: Ben)
(5D still: Ben)
(5D screen: Jeremey)
New location. Shop there.
(7D screen: Jeremey)
We're going to do another practice shoot on Monday (today), and then Abby's going to cut a mini doc from the new footage. Stay tuned.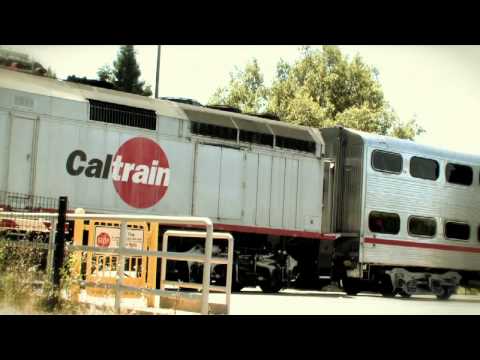 Enjoy the footage from Johnny Roughneck's 1st Annual CalTrain Tour. For more information head to RNCKSF.com, or check out Christian Ericksen's blog Stick It.
This video is one of our traditional Roughneck coverage edits. We're also working on a reality show about Johnny's life, called… It's a Rough Life. We were documenting CalTrain Tour for that as well, so stay tuned for more from the day.
On that note, our favorite exchange of the day:
Jeremey "…but I'm shooting Johnny."
Shane Andrews "That's your problem."
CREDITS
Producers/ Filmers
Jeremey Lavoi
Abby Berendt Lavoi
Filmers
Tyler Moore
Shane Andrews
Editor
Jeremey Lavoi
MUSIC
Leftside by Leftside
Cartel
The Lost Tracks
jamendo.com
Inspektah Deck R.E.C. room
TromaBeats
TromaBeats RMX
jamendo.com
Latin Fever
Juanitos
Best of Juanitos
jamendo.com
Atomic Battery
Scomber ft. Alex Beroza, Forensic, HiStakes, and Snowflake
ccmixter.org
(EDIT 6/8/10: People have had trouble with the Vimeo embed. I cut the bit rate of it in half. So please let me know if you had problems and if they are now fixed because I want to get to the bottom of it. I also uploaded the video to youtube and embedded that as well.)
Johnny's life is so crazy we thought it would make a good reality show.
Produced & Shot by Abby Berendt Lavoi & Jeremey Lavoi Edited by Abby Berendt Lavoi
It appears that the cat's out of the bag. I was planning on holding onto this for a little bit longer. It's funny when Lowcard scoops TeamJaded on a TeamJaded Video.
Roughneck Hardware and 48Blocks joined forces and opened a skate shop in downtown San Francisco. If you read this blog, then you already know that.
Dwntwn
644 Hyde Street @ Post.
SF, CA
(415) 913-7422
dwntwn@dwntwnsf.com
Open Mon – Sun 11:00 AM – 7:00 PM

Get back to Backside 9 Sunday December 13th, San Francisco. That's right Johnny is doing it again, race down Backside 9 round 2. Be there.
"No more Brooklyn Banks, No worries come on BACK to the BACKSIDE 9 next

sunday. Pre-Party with FREE BBQ, BEERS, & GIVEAWAYS at DWNTWN SK8SHOP (644 Hyde @ Post) from 11-1pm. Then at 2pm the flag drops and the speed

wobbles start…BE THERE! Any other questions call 415.913.7422″