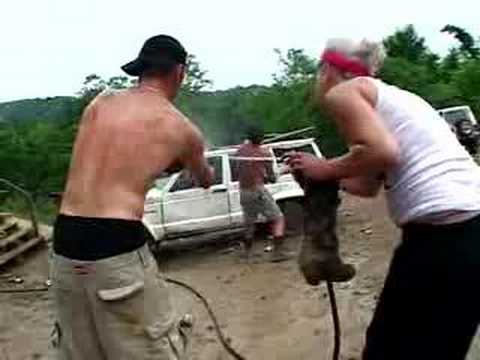 Skatopia: 88 Acres of Anarchy takes you inside a hillbilly skateboarder "commune" in Appalachia where anything goes. The self-declared cult-leader of Skatopia converts punk skaters into volunteer labor, battles bill collectors, does a stint in jail and raises his own family amidst the chaos. Not just for skateboarders, the film explores the glory and the challenges of pursuing your own dream.
Back in 2006, Jeremey happened to be at Skatopia with his partner at the time, Allison Muir. They were filming the Bowl Bash for Current TV.
88 Acres of Anarchy was in production then. The filmmakers, Laurie House and Colin Powers had been camped out at Skatopia with their Headlamp crew for a few months and they were planning to be there for a few more, which blew Jeremey's mind. If you've ever seen any footage of Skatopia than you know what a commitment to filmmaking that was. JADED's been following the progress of the film ever since.
In fact, we had the pleasure of premiering our short documentary Make It Happen: Lowcard a few slots before the North American premiere of 88 Acres of Anarchy at the 1st International Skateboard Film Festival in Seattle a couple of years ago. Then we hung out with Laurie and the Skatopians during the after party at Marginal Way. It was great talking to her about filmmaking, and we are now excited to share the news that Skatopia: 88 Acres of Anarchy is out on DVD at skatopiathemovie.com and it hits the stores on July 12.
The Collector's Edition features over 90 minutes of material not found on the retail version. If you order before July 12, they'll throw in a sticker pack free.
The retail edition ships free in the US with the discount code: freeship
They also need some help getting it up on Netflix. Click here and hit "Save" or "Add to My Queue".
Oh yeah, and like them on Facebook
.